Asterism 79 - Human Being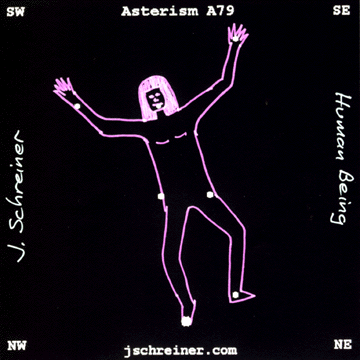 The Human Being – Intelligence within life.  An individual within a society.  Chauvinistically, we see ourselves as masters of the Earth, the highest and best form of life.  Maybe so.  Or are we a transitional being?  Will we self-destruct?  Be wiped out by global catastrophe?  Or will we remake ourselves, from the building blocks of genetics and computers?  Has the real journey only just begun?  It is appropriate that our southernmost primary asterism be the Human Being, unadorned and alone.
7 stars – 5 from Pavo, 1 from Indus, and 1 from Octans.
Right Ascension = 20h23m
Declination = -67.0 degrees
Alpha Pavo, Peacock, magnitude 1.93, is the right foot of the woman.