Asterism 78 - Tree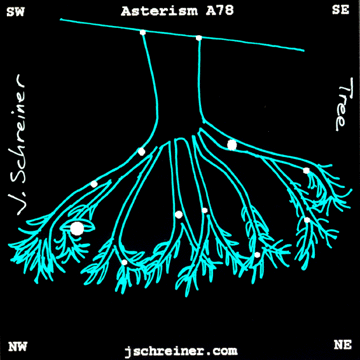 Trees are perhaps the exemplar of the plant kingdom.  They are among some of the largest and oldest life forms on this planet (excluding a few underground fungal mats).  Like all lesser plants, they capture the energy of the sun for life, and all animals ultimately rely on these plants for their lives.  Trees are large enough, as forests, to create environments for thousands of living species (from their roots, underbrush, branches, and canopies).  They are tough, to withstand the predation of animals and lesser plants.  Their presence (or absence) defines a land's geography and climate.  They provide us with wood, fuel, food, and oxygen.
13 stars (though only 12 are visible) – 4 from Triangulum Australe, 2 from Apus, 2 from Ara, 2 from Centaurus, 2 from Circinus, and 1 from Pavo.
Right Ascension = 15h56m
Declination = -65.6 degrees
Ignoring the magnitude of the 12 visible stars, this asterism has the distinction of being nearly symmetrical, and along the north-south axis at that!  Alpha Centaurus, Rigel Kentaurus, is the nest within the Tree's branches.  Rigel Kentaurus is the star system closest to us, slightly more than 4 light years distant.  It consists of two bright stars (magnitudes –0.01 and 1.08) that we see as one star, and a third very dim star, whose magnitude is approximately 11.0.  The dim star of the triplet is closest to the Earth, and so is named Proxima Centaurus.