Asterism 75 - Family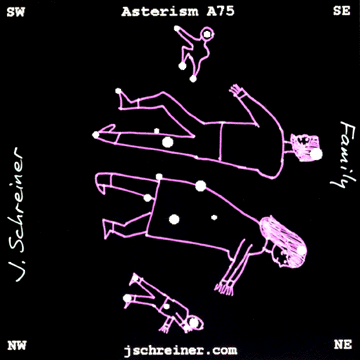 The Family is the primary human social group.  It is also the way human life comes into being.  The Family is the source of our strongest memories and emotions.  Whether serene or tumultuous, we are always linked to our Family members.  Over the centuries, religions, governments, and movements have tried to weaken the Family.  They had little effect.  The Family also reminds us that we are still animals, who are also born of families.  The human Family, however, supports a long childhood that allows our brains and minds to develop.
21 stars (the most of any asterism) – 8 from Crux, 8 from Centaurus, and 5 from Musca.
Right Ascension = 12h35m
Declination = -59.9 degrees
This asterism contains the famous Southern Cross asterism, the four bright stars of Crux, which point toward the south celestial pole.  Alpha Crux, Acrux, actually a binary star, whose magnitudes are 1.39 and 1.86, is the right thigh of the father.  Beta Crux, magnitude 1.26, is the back hip of the mother.  Gamma Crux, Gacrux, magnitude 1.64, is the lower front of her dress.  Delta Crux is the top of her left leg.  Beta Centaurus, Agena, magnitude –0.23, is the head of the father.