Asterism 72 - Observatory; Astronomy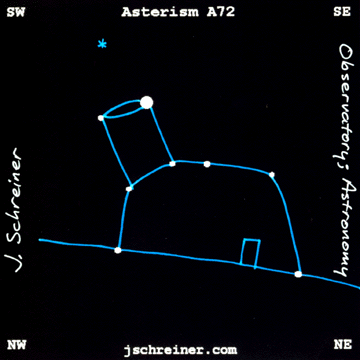 Astronomy – the most ancient, and perhaps the most modern, of the sciences.  Millennia of observations, yet only centuries of science.  The science started with the telescope, and its modern counterpart, the Observatory.  Through Astronomy, we learn our place in the universe, and of the universe itself.  Can we leave Earth?  Are we alone?  How did it all begin?  How will it all end?  We view the stars, and through them, try to understand existence itself.
8 stars – 4 from Eridanus, 3 from Phoenix, and 1 from Horologium.
Right Ascension = 01h59m
Declination = -49.8 degrees
Alpha Eridanus, Achernar, magnitude 0.48, the end of the river Eridanus, is the bright star in this asterism.