Asterism 70 - Horse and Rider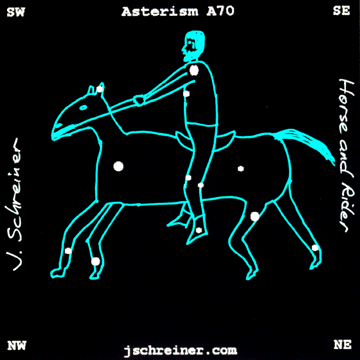 Humans have domesticated many animals, but the Horse is probably the best example.  We use them for work, play, sport, transportation, and war.  They bear our weight, and wear bonds as no other animal would.  As large as they are Horses have never threatened us.  Like humans, they can be wild or tame, solitary or herd.  This asterism has a second meaning – the nomadic horsemen of central Asia that plagued ancient civilizations for millennia.  They threatened China, India, and eventually Europe.  Their attacks could have snuffed out civilization.
12 stars – 9 from Vela, 2 from Puppis, and 1 from Carina.
Right Ascension = 08h37m
Declination = -46.2 degrees
Gamma Vela, Alsuhail, magnitude 1.83, is the right thigh of the Horse.