Asterism 69 - Friends; Friendship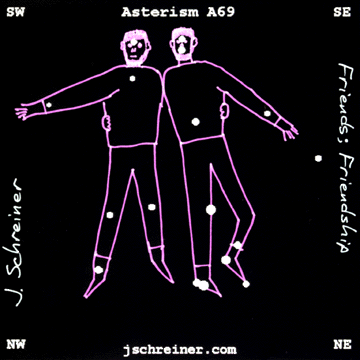 Family and Love are not the only constructive relationships among people.  We have Friendship.  We bond with other non-family members.  We share interests, enjoy each other's company, and give support in times of need.  Cooperation and trust make us Friends.  We remain individuals, yet define ourselves by our Friends.  Friendship strengthens the bonds of society.
18 stars – 10 from Scorpius, 6 from Ara, 1 from Norma, and 1 from Telescopium.
Right Ascension = 17h24m
Declination = - 45.0 degrees
The northern half of this asterism is the eastern half of Scorpius.  Lambda Scorpius, Shaula, magnitude 1.62, is the front right foot of the eastern Friend.  It seems appropriate that the asterisms Friendship and Love be next to each other, but odd that they are formed by dividing Scorpius into two halves.