Asterism 65 - Farmer; Agriculture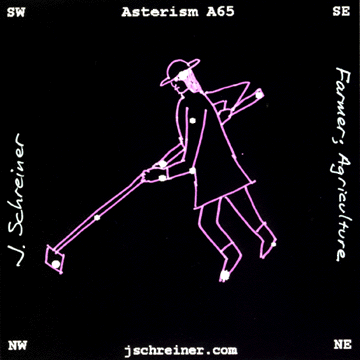 Agriculture – humankind's first revolution.  Once people learned to cultivate plants for food and fiber, they could settle in one location, develop cities, accumulate wealth, and develop culture with their free time.  For millennia, most people were subsistence Farmers.  As we industrialize, fewer Farmers are needed to cultivate the land.  Machines perform Agriculture in industrialized societies, but even now, over a billion people are still Farmers.  Despite all our advances, we still obtain our food from the Earth.  We remain linked to the land, and the Farmer is the primary link.
10 stars – 9 from Centaurus, 1 from Lupus.
Right Ascension = 13h55m
Declination = -41.5 degrees