Asterism 64 - Airplane; Aeronautics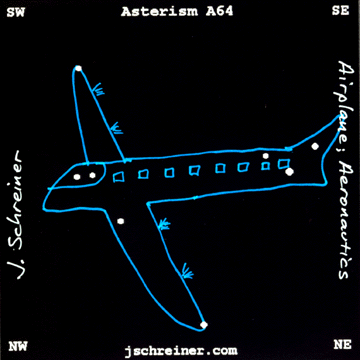 A century ago humankind conquered the domain of air, as the insects and birds had done.  The technology of Aeronautics advances each year.  Some Airplanes (jets) traverse the globe within a day.  Humankind can now reach any point on the surface of the Earth, using Airplanes.  They destroyed the dogma that humans could not fly, and laid the foundation for our next advance – space exploration.  Today, people fly in airplanes with as much convenience as they do trains and buses.  Not only people, but cargo traverses the globe via air.
8 stars – 3 from Columbia, 3 from Eridanus, 1 from Lepus, and 1 from Horologium.
Right Ascension = 04h57m
Declination = -33.5 degrees