Asterism 61 - Sailing; Navigation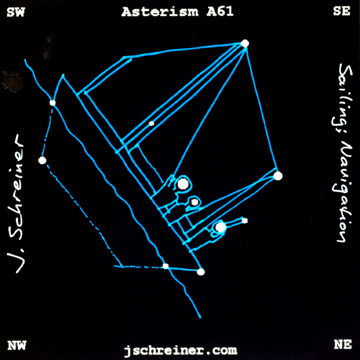 As water covers 70% of Earth, it is only natural that we use it for transportation, travel, commerce, and food.  Using the winds gave us power over both air and water.  Navigation stimulated science (geography, time-keeping, astronomy, map-making) and migration.  It was European Navigation that finally defined the size and boundaries of Earth.  Our ships still ply the oceans, carrying cargo among the continents.  A sailor viewing the enormous, uncaring oceans gains perspective of human life on this planet.
11 stars – 9 from Canis Major, 1 from Columbia, and 1 from Puppis.
Right Ascension = 06h58m
Declination = -29.1 degrees
Delta Canis Major, Wezen, magnitude 1.84, and Epsilon Canis Major, Adhara, magnitude 1.50, are the heads of two mariners.