Asterism 60 - Itinerant; Migration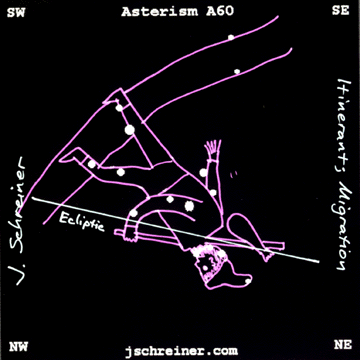 We have always had the Itinerant, the lone traveler, who abandons a settled life, be it from rejection, dissatisfaction, wanderlust, or a desire for something better.  He is the antidote to the smug life of a small-minded village.  But he is not alone.  Migrations have long been a part of humankind's history – because of famine, climate, greed, poverty, or persecution.  As best we know, we started in Africa, and migrated across the entire planet, crossing even the oceans.  Humankind is not rooted, like a tree.  We travel.
15 stars – all from Sagittarius
Right Ascension = 18h51m
Declination = -29.0 degrees
Nunki, magnitude 2.08, is the Itinerant's shoulder.  Kaus Borealis is his right wrist.  The center of our galaxy lies in this asterism.  The Itinerant treads upon the Milky Way; the ecliptic is the pole on which he carries his bag of meager possessions.