Asterism 59 - Love; Affection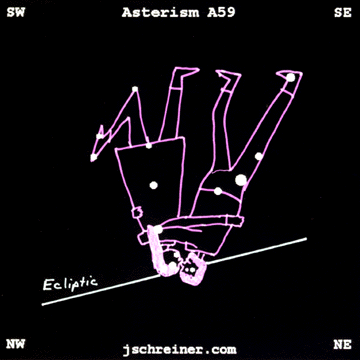 Lower animals are attracted to each other by instinct, but humankind has developed Love and Affection to cement our bonding.  Lust and infatuation may begin a relationship, but only Love and Affection can sustain it.  In them, we enjoy the presence of another person, and are drawn out of isolation.  Yet, somehow, our individuality is enhanced.  Love and Affection between two people are the foundation for the family.
13 stars – 10 from Scorpius, 2 from Libra, and 1 from Lupus.
Right Ascension = 16h08m
Declination = -26.5 degrees
This is primarily the western half of Scorpius.  Alpha Scorpius, Antares, magnitude 1.0, is the man's hip.  Beta Scorpius, Acrab, magnitude 2.65, is the woman's eye; Delta Scorpius, Dschubba, magnitude 2.34, is her heart.  The ecliptic passes through the point where the Lovers' faces meet.