Asterism 48 - City; Civilization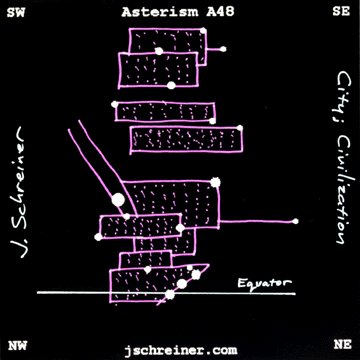 We became human, no longer nomadic hominids, when we built our first villages (Cities).  Cities became the base for residence, industry, and commerce.  Capable of structuring our environment, we distanced ourselves from the vagaries of nature.  As humankind concentrated into Cities, learning, wealth, and commerce accelerated.  The power of the City is so strong that people, knowing they will face grinding poverty and overcrowding, still willingly migrate from countrysides to their nearest metropolis.  We have not yet seen the end of urban migration.
18 stars – 9 from Orion, 7 from Lepus, 1 from Erinadus, and 1 from Monoceros.
Right Ascension = 05h36m
Declination = -9.9 degrees
The bright star on the road entering the City is Rigel, Beta Orion, magnitude 0.11 (Orion's knee, from the northern hemisphere).  His other knee, Saiph, Kappa Orion, magnitude 2.05, is the roof corner of the building with the tallest antenna.  The 3 stars of Orion's belt (Alnilam, Alnitak, and Mintaka) are the diagonal roof of the northernmost building.  The equator passes through Mintaka.