Asterism 40 - Gun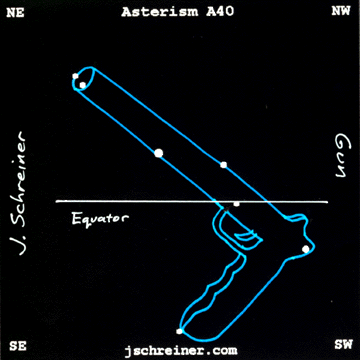 Weapons changed slowly over the millennia, when combat was man to man.  All that changed overnight with the Gun.  Once Guns became reliable, they became the great equalizer among humankind (the physically strong could no longer dominate the weak with impunity).  For several centuries, Guns were the primary weapons of battle (individuals) and war (armies).  The aristocracy, seeing their power, forbade the lower classes from possessing Guns.  Aggression or defense, hunting or sport, the Gun has many uses.
7 stars – 4 from Cetus, 2 from Taurus, 1 from Eridanus.
Right Ascension = 02h56m
Declination = +2.1 degrees
Mira, the Miracle star, (Cetus) is the hammer of the Gun.  At the southwest corner of this asterism, Mira varies in magnitude from 2.0 to 10.1 every 332 days, determining when the Gun fires.  Why the ancients regarded variable Mira as a miracle, and variable Algol as a demon is uncertain.  Perhaps Algol's reddish color and speed seemed more threatening than Mira.  The equator passes through the middle of this asterism.