Asterism 37 - Ant; Insect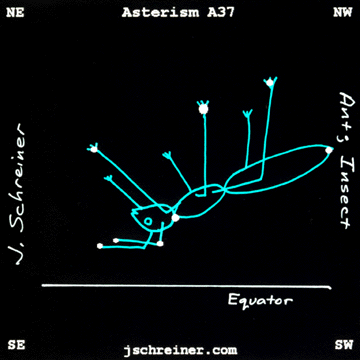 The ET's almost took the Insect for the dominant species of Earth.  They have been life's success story, at least on land.  They were the first land animals.  They were the first to fly.  They survived several mass extinctions.  Even today, the weight of just the Earth's Ants exceeds the weight of all human beings.  They are essential to the land biosphere.  When in colonies, like the Ant, they become super-organisms.  And as colonies, they demonstrate how far individuals can subordinate themselves.  As a check on our pride, they show how life can thrive with miniscule intelligence.  We may feel contempt for Insects, but this is still their planet.
8 stars – 7 from Ophiuchus, 1 from Hercules.
Right Ascension = 17h42m
Declination = +7.3 degrees
Alpha Ophiuchus, Ras Alhague, magnitude 2.07, is the middle foot of the Ant.  Beta Ophiuchus, Cebalrai, magnitude 2.77, is the Ant's neck.  This asterism lies just north of the equator.