Asterism 36 - Book; Writing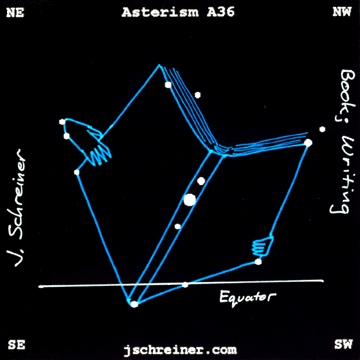 Language, perhaps humankind's greatest gift, has been with us for thousands, maybe millions, of years.  History itself started when our words were finally Written.  Written language, be it alphabets or pictograms, allowed knowledge to be preserved across generations.  Each generation added to our heritage.  Until recently, literacy meant power, and even now, reading remains important.  You may be reading these words on a glowing computer screen, but Books have been the vessel of Writing for centuries.
13 stars – 8 from Aquila, 3 from Delphinus, and 2 from Sagitta.
Right Ascension = 19h54m
Declination = +10.6 degrees
Alpha Aquila, Altair, magnitude 0.77, is the bright central star of this asterism.  Gamma Aquila, Tarazed, magnitude 2.72, is immediately to the north-northwest of Altair.  The equator passes through the southern part of this asterism.