Asterism 33 - Smith; Metal Working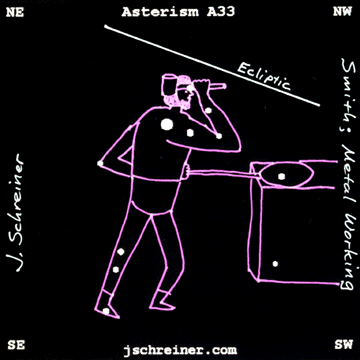 As important as the agricultural revolution, Metal Working has also been part of humankind's heritage.  Humankind learned to extract pure metal from ores.  In Metal Working, we produce tools, ornaments, utensils, and weapons – all the accoutrements of civilized life.  To work metal, we had to master fire, dig mines, and develop a specialized workforce (the Smith).  In making metal, we mastered the elements of Earth.  Eventually we found metal to be the river through which electricity flows.
12 stars – 8 from Taurus, 4 from Orion.
Right Ascension = 04h32m
Declination = +12.3 degrees
Alpha Taurus, Aldebaran, (slightly variable) magnitude 0.85, is the shoulder of the Smith.   The ecliptic passes north of this asterism.