Asterism 31 - Combat; Conquest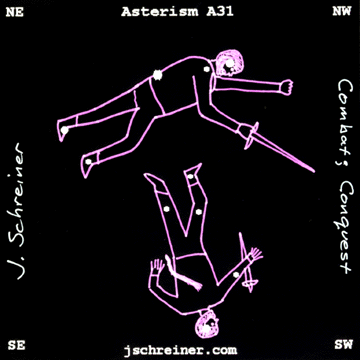 Humans have always been in violent conflict.  Man vs. man, tribe vs. tribe, nation vs. nation.  Sometimes the battle is between equals (Combat).  Sometimes it is the strong overwhelming the weak (Conquest).  It is never pretty, but it is part of humankind, and has been a dynamo for change.  It molds the next generation (winners write history; losers have few children).  Fighting and violence have always been with us, and we may never abandon it.  History is sometimes defined as a list of wars (Conquest).
11 stars – 6 from Serpens, 3 from Hercules, and 2 from Corona Borealis.
Right Ascension = 15h52m
Declination = +17.8 degrees