Asterism 30 - Monkey; Primate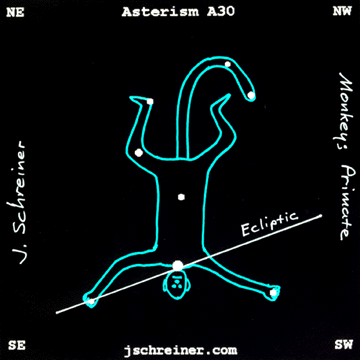 The Monkey, and Primates in general, are our evolutionary heritage.  Primates are our closest animal relatives, and we see it in their behavior – from the war-like chimpanzee to the sex-obsessed bonobo.  Monkeys/Primates may be the most intelligent creature on the planet, after humans.  Once we thought the Monkey could learn no language, humankind's singular gift.  We know better now.  The Monkey reminds us that we are part of nature, yet, somehow, developing beyond it.
9 stars – all from Leo.
Right Ascension = 10h07m
Declination = + 17.9 degrees
The ecliptic passes through Alpha Leo, Regulus, magnitude 1.35 (the Monkey's neck).  Gamma Leo, Algieba, magnitude 1.99, forms the Monkey's knee.  This is the traditional Sickle or Question Mark asterism (the western half of Leo).