Asterism 25 - Flower; Pollination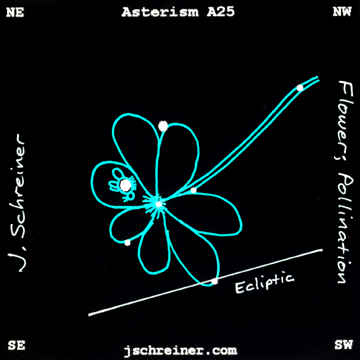 We regard Flowers as a frivolous decoration of nature.  The truth is that Flowers and the animals that pollinate them (bees, ants, birds, bats …) are an essential part of the land biosphere.  Flowers and the Pollinators have served each other symbiotically for millions of years, and land animals depend on them.  Without flowering plants, the land would be barren.  The animals that eat them (their fruits, stems, leaves, & roots) would perish for lack of food.  We may find Flowers pretty, but they display for their Pollinators, not for us.
8 stars – all from Gemini.
Right Ascension = 07h29m
Declination = + 28.4 degrees
We see only 7 stars here because Alpha Gemini, Castor, is actually 6 stars (3 pairs of binary stars).  The brightest two binaries have magnitudes of 1.97 and 2.95, and are counted as two separate bright sky objects.  The third binary star has an approximate magnitude of 9.0.  Castor is the most northern of the petal stars.  Beta Gemini, Pollux, magnitude 1.15, is the bee visiting the Flower.  The ecliptic passes through Delta Gemini, Wasat, magnitude 3.51.