Asterism 24 - Grain; Bread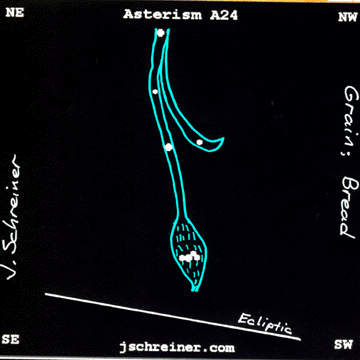 Grains – the plants that started humankind's agricultural revolution.  Once we cultivated Grain, and from it baked Bread, civilization developed.  The Grains appear as various grasses (wheat, rice, barley …) in the temperate zones of Earth.  We changed Grain as much as it changed us.  We have continually developed new strains to meet climactic challenges and feed our ever-increasing population.  Even today, Bread, in all its varieties, is the foundation of humanity's diet.
8 stars – 4 from Perseus, 4 from Taurus.
Right Ascension = 03h50m
Declination = + 29.6 degrees
The tight cluster of stars are the four brightest stars of the Pleiades, the Seven Sisters, part of Taurus.  The ecliptic passes just south of this asterism.