Asterism 22 - Octopus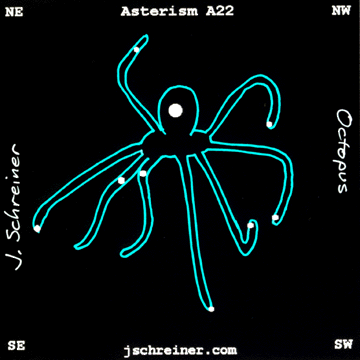 This maligned, underrated animal is not a monster, though it appears alien to us.  The Octopus is the most intelligent of invertebrates, and shows us a different lineage by which intelligence may develop.  Its "brain" is not localized, like ours, but spread throughout its body.  They learn.  They solve puzzles.  The fish may dominate the oceans, but the Octopus has been around longer than them.  The Octopus, highest of the invertebrates, and fish, together represent ocean life.
9 stars – 4 from Lyra, 4 from Hercules, and 1 from Cygnus.
Right Ascension = 18h35m
Declination = + 32.6 degrees
Alpha Lyra, Vega, magnitude 0.04, is the head (or beak) of the Octopus.