Asterism 16 - House; Domicile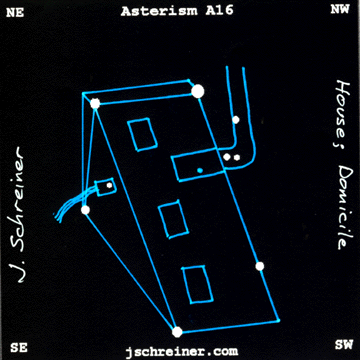 Our first step toward civilization may have been building permanent shelter, a home.  It provides a closed environment for the family, protects us from harsh weather, and gives us privacy from others.  As ancient as these structures are, we continually improve them with new materials and techniques.  Yet we cannot take them for granted.  The poorest among us have no Domicile.  The House/Domicile is our primal security.
9 stars - 8 from Auriga, 1 from Taurus.
Right Ascension = 05h25m
Declination = + 39.5 degrees
Alpha Auriga, Capella, magnitude 0.08, is at the corner base of the House (toward the northwest).  Beta Auriga, Menkalinan, magnitude 1.90, is the roof corner above Capella.  Beta Taurus, El Nath, magnitude 1.65, is the other roof corner (toward the south).