Asterism 15 - Radio/Television Tower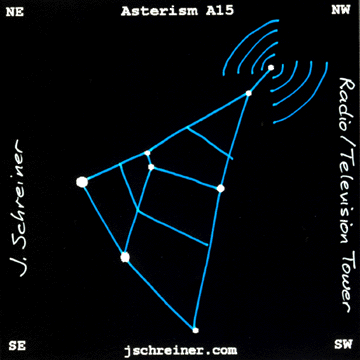 Once we understood Radio waves, we could communicate instantaneously across the planet.  In the form of Television and Radio, they brought us nearly a century of broadcast mass communications.  Our lives would be dull and limited without Radio wave transmission.  Our atmosphere is awash with Radio waves, which have been trickling into outer space for decades.  In fact, it was these Radio waves that caught the attention of the ET's.
8 stars – all from Cygnus.
Right Ascension = 20h00m
Declination = + 45.7 degrees
Alpha Cygnus, Deneb, magnitude 1.25, and Gamma Cygnus, Sadr, magnitude 2.23, are at the base of the Tower.