Asterism 13 - Bird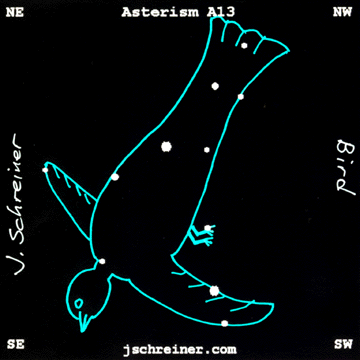 Birds are flight, vertebrates that have conquered the domain of air.  We have always sought to fly like them.  They may even be living descendants of the dinosaurs.  Despite the derogatory label "bird-brained", many Birds (especially parrots) are quite intelligent.  Of the vertebrates, only Birds, a few monkeys, and humans can see color, and so enjoy a richer consciousness.
11 stars – all from Perseus.
Right Ascension = 03h18m
Declination = + 47.7 degrees
Alpha Perseus, Algenib, magnitude 1.80, is the center of the Bird's back.  Beta Perseus, Algol, the Demon Star, is the bright star on the Bird's southwestern wing.  The Demon Star earned its name by blinking every 2.87 days, varying in magnitude from 2.06 to 3.28.